Modloft Foster 35in. Mirror
Perfectly symmetrical in every way, the Foster Mirror instills timeless class wherever it's hung. The seamless, circular mirror is inset around a minimalist wood veneer border to create an elegant frame and silhouette. An aluminum wall mount tastefully juxtaposes the wood finish, while the 'strap' to hang it perfectly matches the trim for added continuity.

Please note that we can't accept cancellations or returns on this product.
*Monitor colour settings may vary. We cannot guarantee that the images viewed online will match actual product colour. Please request a swatch on the product page and we will let you know if one is available.
View More+
Dimensions (Inches): 35 Dia x 1.5 H
Dimensions (cm): 88.9 Dia x 3.81 H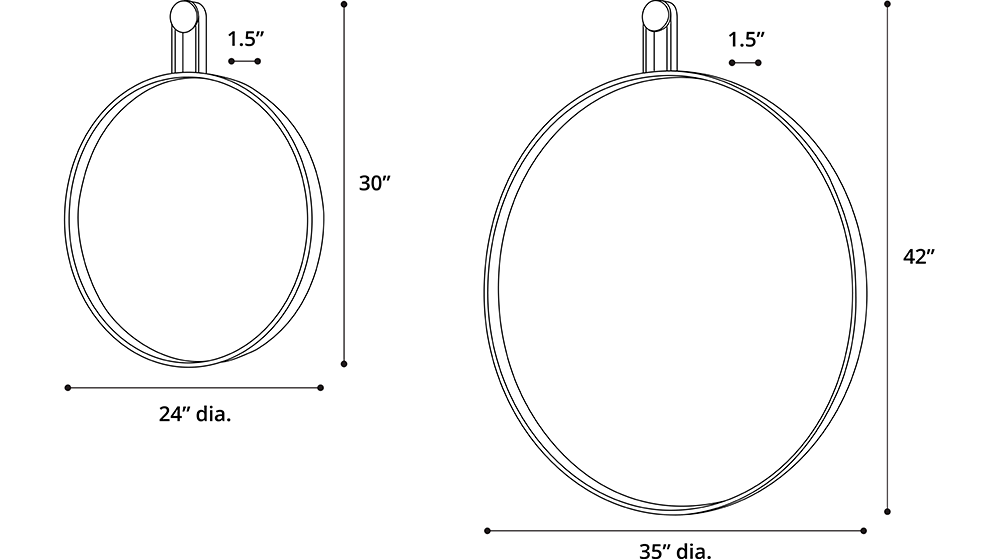 Product Weight : 8.16 kg (18 lbs)
Package Weight : 9.07 kg (20 lbs)
Modloft is passionate about making luxurious urban furniture accessible for all modern enthusiasts. No cheap imitations. Modloft work with a hand-selected team of designers from around the world to create innovative pieces that are stylish, sophisticated, and meticulously crafted. Just the way you like it. Those contemporary silhouettes, sleek lines, and glossy finishes you love are finally accessible. So go ahead. Check out that coffee table you've been dreaming of. Modloft made it just for you.
KEY FEATURES
-The symmetrical, circular mirror is tastefully inset within the frame
-An elegant wood veneer finish perfectly frames the mirror for a modern aesthetic
-A wood strap with matching trim secures the mirror upon an aluminum wall mount
MATERIALS USED
-Steel, Natural Veneer, Glass
COUNTRY OF ORIGIN
-BRAZIL
View Other Modloft Products
Save 5% on your order today and stay informed of new products and sales: